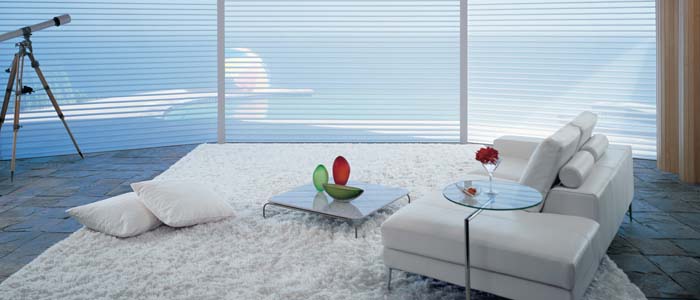 At F&R Interiors serving the greater Los Angeles area, many of our customers want to avoid treating a window because they want to preserve the view. However, anyone who leaves a window untreated is opening up to a host of potential problems, including reduced energy efficiency and damage from harmful UV rays. Hunter Douglas, the leader in window treatment innovations, offers a variety of options that will let you protect your home while preserving your view. Speak with one of our consultants to determine the best option for your window!
Room With a View
To enjoy and appreciate the beauty out a window, selecting the proper window treatment is key. You don't want to add layers of fabric to your windows because the fabric will pull your focus back into the room. One option is horizontal and vertical blinds with smaller slats—they will modestly obstruct your view, but they'll also provide privacy and directional lighting. Another choice is a window treatment that rolls up into a headrail or can be raised to reveal a complete view-through at your window—you can have it up when the sun isn't flowing in, and lower it when you need UV protection and privacy. Options include honeycomb and pleated shades, which stack neatly at the top of your window. Or consider choosing a product that comes in sheer fabrics to let you have all worlds at once. For example:
– Silhouette® Window Shades are the perfect solution. Just like a roller shade, this beautiful window treatment rolls completely into the headrail providing a full view to your outside. And it has soft S-curved vanes that float between two sheer fabrics. When lowered you'll be able to control the light coming into your room as well as achieving a level of privacy and a degree of view-through.
– Pirouette® Window Shadings have contoured fabric vanes suspended in sheer fabric. They give you control over privacy and light diffusion, and when the vanes are open, you have a view-through to the outside world. When the vanes are open, the shadings block up to 81% of harmful UV rays, and when they're closed, they block 99%.
Why Hunter Douglas?
Like any improvement for your home, window coverings can be a major investment. Hunter Douglas offers a complete line of window fashions at a price point you can afford. They all come in a variety of styles, colors, features, and more, and you can select the best product based on your design preferences, functional needs, and budgetary requirements.
Achieving Great View-Through in the Brentwood & Sherman Oaks CA Area
At F&R Interiors, we've been serving the Greater Los Angeles since 1990, with a showroom at 1529 S. Robertson Blvd. We offer the full line of Hunter Douglas window treatments including blinds, shades, and shutters. We also have our own workroom, where we can create beautiful custom curtains, top treatments, pillows, and more. Our personalized service, quality products, and professional installation services ensures you'll find the perfect window treatment solution for your home or business.
We service the Greater Los Angeles area including Brentwood, Santa Monica Sherman Oaks, Beverly Hills, Santa Monica, West Hollywood, Pacific Palisades, Malibu, Hancock Park, Los Feliz, Hollywood Hills, and San Fernando Valley, CA and surrounding areas. Contact us for more details.
Look here to know more about Window Treatment