Bedding & Upholstery Styles
We have the perfect solution for your room makeover! Our professional and experienced designers can help you design the perfect bedroom ensemble with custom bedding, pillows, and upholstery. With hundreds of fabric choices, we can create styles that match your window coverings and complement your bedroom décor. We specialize in bedspreads, bed skirts, duvet covers, comforters, and more.
Custom Bedding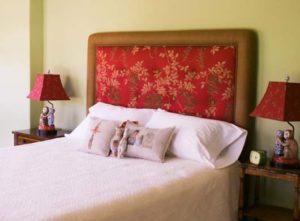 Fabric can redefine the atmosphere of your bedroom, whether you're going for a classic look or something more modern and contemporary. Custom bedding makes a drab room look like an elegant and inviting executive suite. Everything fits perfectly, hangs perfectly, and has the exact amount of fluff and flair to meet your functional needs and design style.
In addition to custom drapery, bedding, and decorative pillows, the fabric selection can be used on high-head beds for added decorative flair, pulling the whole look together!
---
Custom Upholstery & Reupholstery Options
Whether you have furniture that is in good condition and you just want to redecorate or you can't find the right color and/or style of furniture to meet your needs, our custom upholstery services will create the pieces of furniture that you have in mind. Our reupholstery will result in a whole new look for your old chairs or sofas so that you don't have to invest in a new set that may not be what you are looking for in the first place.
Changing upholstery is often all that is needed to give a room a new, stylish look and to coordinate with other pieces that you have purchased. We have solutions that will take any room from where it is now to where you want it to be.
Custom Bedding & Upholstery in the Greater Los Angeles CA Area
Why not treat yourself to a new bedding ensemble or reupholster a favorite piece of furniture? Our design consultants are here to help you bring your design vision to life. We also offer custom window treatments, motorization, and more.
Contact us today to get started or for more information on our custom bedding, upholstery, and home décor services. We offer free in-home consultations and after-hours appointments too.
We Are in the Vicinity
We service homeowners and businesses throughout Los Angeles and San Fernando Valley, including Beverly Hills, Brentwood, Hancock Park, Los Feliz, Malibu, Santa Monica, West Hollywood, Sherman Oaks, Studio City, and surrounding areas.
See here to know more in detail about custom couches