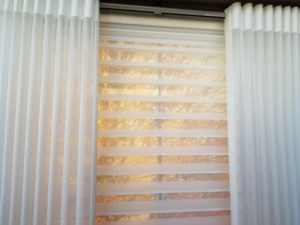 Window treatments are an investment today. We use and enjoy our drapes and shades for many years. They take care of our privacy and light control and in addition, motorized window treatments add to the value of the home.
There are three ways to provide motorized window coverings. Shades or drapery motorized tracks can be hardwired directly to wires that an electrician runs near the shade. Most window coverings can plug into a regular outlet but the simplest is battery operated.
With battery operated window shades no plugs are needed, just a  simple battery operation no plugs or messy electrical wires are needed. However, keep in mind that battery operation widow treatments have width and length specifications that will vary with the products.  Plug in shades can go much wider and longer, in other words much heavier. Those will be perfect to use for heavy blackout draperies or overside window shades.
Whether battery operated or plug-in, motorized window treatments have exploded in such a short period of time. A few years ago it was considered only as a high-end luxury option and today with technology this wonderful option has become very affordable. If there is a window shade you cannot reach, if you don't want to get up from the couch or get out of bed just push a button, and operated your motorized shades, like you would turn the TV on and off, or ask even better, ask Alexa or google to open or close your shades or drapes.  Style and function with an array of colors, fabrics, and transparency brought to you range from the minimalistic to the ornate.
Visually it's the only way to go. Due to child safety laws and requirements for window treatments all cords need to be attached to a wall. Hanging strings or cords are visually "horrible", especially in our minimalist Los Angeles design Style!!!
Energy efficient window treatments that reduce solar heat gain in the summer and heat loss in the winter can reduce energy bills
Like most everything today you can operate your motorized window shades from your phone or tablet when you are not home very easily. With the new technology, you have the ability to schedule your window treatment operating according to weather, energy efficiency or privacy can now happen automatically. You can create scenes or any combination you desire. Our system is designed for compatibility with most home automation system technologies on the market today. All window treatment motors can be syncs to Apple, IOS and Android tablets and mobile devices.   Most electronic products today are a warranty for one year our motorized shades components are covered for five years from the date of purchase.
View here to know about Window Coverings That Are Pet-Friendly