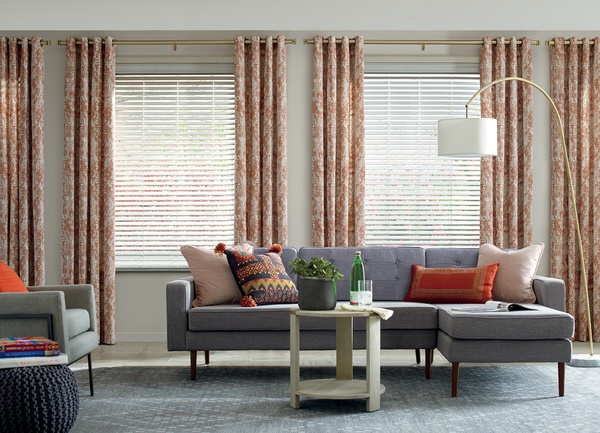 Depending on how your room is set up, your window could be the natural focal point. Or perhaps you'd like to make it that way. Either way, it's easy to enhance your window—whether you already have treatments up or not. At F&R Interiors serving the Los Angeles area, we'll be happy to show you the benefits of custom drapery and side panels. Read on to learn more!
The Hunter Douglas Design Studio™
Hunter Douglas offers an extensive fabric library that includes numerous colors and prints as well as many patterns and textures. You can find them all in the Hunter Douglas Design Studio™, where you can find fabric families, pairing suggestions, and unique designs in the Featured-Artist Series. Plus, you can find trims, bands, and hardware that will help ensure that the look at your window is truly one of a kind, with style and functionality that fits perfectly in your home.
Adding Custom Drapery and Side Panels to Your Window
Custom-made drapery and side panels are as beautiful as they are versatile. They can help bring a theme of a room together, or, if you use them in multiple rooms, tie together the entire home. You can use them to add drama to your current window fashion or use them as standalone treatments for your window. Our designers will help you get exactly the look and feel you want, by helping you find the perfect fabric and pattern.
The Right Fit for Any Window
No matter what anyone says, there's no such thing as a "standard" window. Even rectangular or square windows differ from each other slightly, and they can be positioned on a wall ever so slightly differently. Plus, custom shapes of windows (for example, ovals, hexagons, circles, and more) require custom window fashions. We design and sew draperies and side panels to fit any window and room perfectly—whether you want it to be something that frames the window or runs from floor to ceiling in a uniquely elegant fashion
Durable
Custom draperies and side panels can last up to twice as long as off-the-shelf curtains. Professional craftsmanship ensures that your soft window treatments will stand the test of time. Speak with one of our representatives today to see if custom draperies or side panels will work for your needs.
Custom Drapery and Side Panels in the Brentwood & Sherman Oaks CA Area
At F&R Interiors, we've been serving the Greater Los Angeles since 1990, with a showroom at 1529 S. Robertson Blvd. We offer the full line of Hunter Douglas window treatments including beautiful custom curtains, top treatments, pillows, and more. Our personalized service, quality products, and professional installation services ensures you'll find the perfect window treatment solution for your home or business.
We service the Greater Los Angeles area including Brentwood, Santa Monica Sherman Oaks, Beverly Hills, Santa Monica, West Hollywood, Pacific Palisades, Malibu, Hancock Park, Los Feliz, Hollywood Hills, and San Fernando Valley, CA and surrounding areas. Contact us for more details.